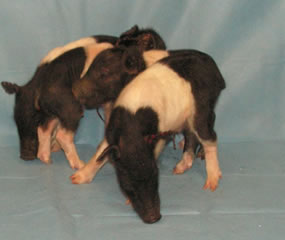 Obtained from: University of Missouri
References:
Swine in Biomedical Research Conference 2005 (specific abstracts CV4, CV5, CV9, NU2, and NU3).
Dyson MC, Alloosh M, Vuchetich JP, Mokelke EA, Sturek M. Components of metabolic syndrome and coronary artery disease in female Ossabaw swine fed excess atherogenic diet. Comp Med. 2006 Feb;56(1):35-45.
Lowe et al., 2007 Society for the the Study of Reproduction 40th meeting Conference Proceedings: Abstract #524.
Krisher RL, Lowe JL, Bailey A, Sturek M. Endocrine parameters and ovarian dynamics in Ossabaw miniature swine with metabolic syndrome suggest a model for polycystic ovary syndrome Dept. of Animal Sciences, University of Illinois, Urbana, IL, Dept. of Animal Sciences, Purdue University, West Lafayette, IN, Dept. of Cellular & Integrative Physiology, Indiana University School of Medicine, Indianapolis, Indiana.
Lee L, Alloosh M, Saxena R, Van Alstine W, Watkins BA, Klaunig JE, Sturek M, Chalasani N. Nutritional model of steatohepatitis and metabolic syndrome in the Ossabaw miniature swine. Hepatology. 2009 Jul;50(1):56-67.