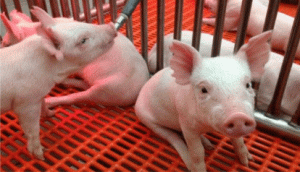 Deletion in the CD1D gene
Donated by the NSRRC.
Reference:
Whitworth KM,Lee K, Benne JA, Beaton BP, Spate LD, Murphy SL, Samuel MS, Mao J, O'Gorman C, Walters EM, Murphy CN, Driver J, Mileham A, McLaren D, Wells KD, Prather RS. Use of the CRISPR/Cas9 System to Produce Genetically Engineered Pigs From in Vitro-Derived Oocytes and Embryos. 2014. Biol Reprod. 2014 Sep;91(3):78. doi: 10.1095/biolreprod.114.121723. PMCID: PMC4435063.